Fire Pit and Fireplace Installation Services
Just because the weather is cooler does not mean you cannot enjoy your outdoor space. While you may not be able to utilize that outdoor shower, outdoor fireplaces and fire pits are an excellent way to appreciate this season's beauty. These features make it easy to enjoy a balance between the scorching heat of summer and the winter's bitter cold. So, whether you are looking to entertain your loved ones or simply enjoy the peace and solitude of your garden, these features can certainly keep you warm and toasty.
Roseville Outdoor Kitchen Solutions offers fire pit and fireplaces specialist design services in Roseville and surrounding areas. With years of industry experience, we design and build outdoor fire pits and fireplaces that meet and often exceed our clients' expectations. We are aware of what it takes to construct a fire pit or fireplace that is aesthetically pleasing as it is warm. We provide fireplace construction services for both commercial and residential settings and create truly inspiring outdoor and indoor fire pits that all our clients are proud to call their own.
While many don't consider an indoor or outdoor fireplace a necessity, once you install one, it will become a feature that you'll soon realize you cannot live without. Our attention to detail, commitment to quality, and experience are why a fire pit or fireplace designed and constructed by Roseville Outdoor Kitchen Solutions is an unrivaled addition to any property.
Outdoor Fireplaces
A fireplace in your backyard will add warmth and ambiance while creating an eye-catching focal point and design aspect. Our outdoor fireplace experts can design these as standalone features just about anywhere in your landscape or incorporate them into an outdoor patio or kitchen design. Regardless, these features create a spot of warmth to gather around during those cool nights while adding flair to your outdoor relaxing or entertaining space.
Our company provides a choice of stone fireplaces, concrete fireplaces, brick fireplaces, and block fireplaces. We create those that rely on wood and other sources of fuel. Our fireplace designs can include extra amenities like hearths, mantles as well as incorporated seating in order to improve the overall exterior fireplace design.
Outdoor Fire Pits Design & Construction
If you are more into outdoor fire pits, you can count on our team to create designs that match your needs and tastes. We provide above ground and recessed fire pits that consist of elements that make them genuinely distinct. Choose from a wide array of materials, shapes, and sizes for your exterior fire pit and let our team handle the rest. Our contractors in Roseville, CA can design and build anything from an intimate fire pit to warm you and your partner on a cool night to huge fire pits that become the central entertainment spots.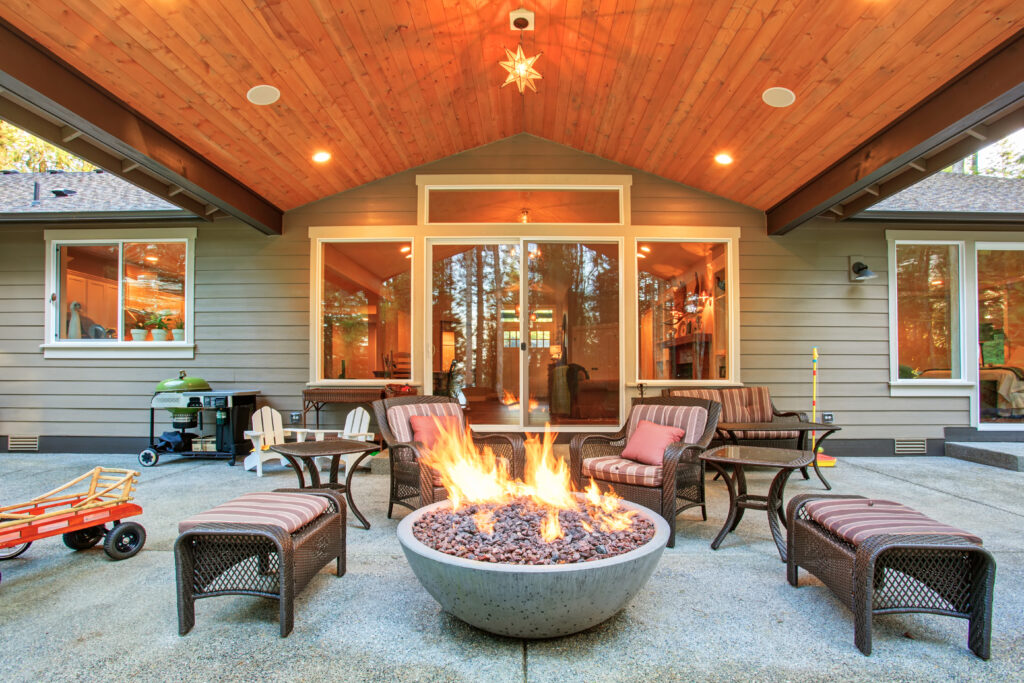 Hire Us Today!
If you are in need of an outdoor or indoor fire pit/fireplace installation or spruce up, we are your one-stop solution. Let us make your dream come true by getting in touch today. Our team will attend to your inquiries, whether you reach us through the phone or email.
Fill out the form below and a team member will get back with you as soon as possible.